Threaded Fasteners: GRK Fasteners Kameleon Composite Deck Screws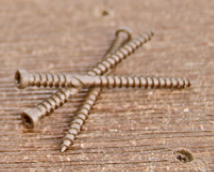 GRK Fasteners presents a new Trex Select-approved product, the Kameleon Composite Deck Screw. Kameleon screws blend perfectly with Trex Select composite deck boards and have treated lumber code-approved GRK Climatek coating for superior corrosion resistance.
They have been approved by TREX Company, Inc., for use in their most popular colors of Trex Select decking, including Woodland Brown, Saddle, Pebble Grey and Madeira.
Contractors choose Kameleon Screws for composite decking solutions because of its unique design featuring fiber-trapping rings that keep material from splintering and eliminates any mushrooming effect.
"The new Trex Select approved Kameleon Composite Deck Screws allow you to drive screws that blend in with Trex decking, providing a clean, finished look. In addition, our exclusive GRK features allow them to work quicker and more effectively on Trex Select boards," said Jacek Romanski, marketing manager for GRK Fasteners. "These screws are also code approved, ensuring the foundation to a strong structural deck. And now they're virtually unnoticeable."
Kameleon screws reduce both time and headaches for the contractor. These deck screws are filled with GRK optimal screw advancements and certifications to ensure quality installation and long-term value. They include the following features:
W-Cut: Reduces the friction on the screw shank, which results in lowering the driving torque for a fast and smoother drive.
Zip Tip: Eliminates the need for pre-drilling, which allows for faster penetration.
CEE Thread: Enlarges the screw hole, which ensures that there's no cracking and provides a clean, finished look.
Advanced saw-like under-head teeth design for countersinking.
The highest quality case-hardened steel with high tensile, torque and shear strength.
In addition, Kameleon screws are International Code Council approved for structure and coating under ESR#3201.
Kameleon screws are available in No. 9 gauge diameters in lengths of 2-1/2" and 3". They are also sold in other colors that match today's most popular composite decking, including Redwood, Brown, Grey, Sand and Tan.