Threaded Fasteners: Grip-Rite PrimeGuard MAX Stainless Steel Fasteners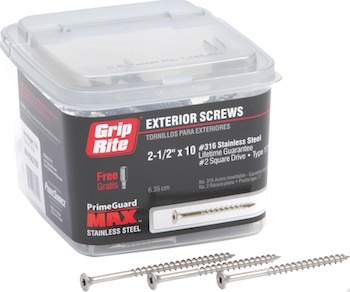 Grip-Rite's PrimeGuard MAX is a line of certified 100% stainless steel fasteners designed for use on decks, fences, roofing, siding, trim and other outdoor projects.
The product line includes stainless steel nails, screws and collated nails that feature a lifetime guarantee against rust.
Each product has endured rigorous testing and monitoring and is available in a vast array of styles and sizes to satisfy any project need.