Threaded Fasteners: National Nail CAMO Edge Pro System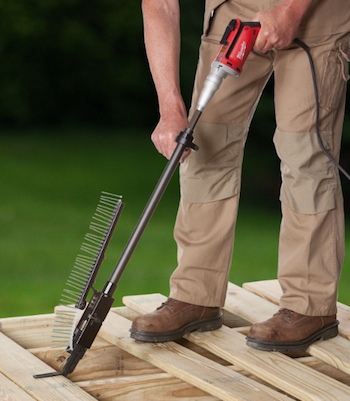 On July 1, National Nail Corp. is introducing the CAMO Edge Pro, the first collated screw system for edge-fastening wood, composite, or PVC deck boards.
Part of the CAMO Hidden Deck Fastening System, the Edge Pro is an auto-feed screw system that secures deck boards through the board edge.
"Most decks are currently built using the traditional face-fastening method, which encourages splitting, cracking, and fastener pops – annoyances that prevent homeowners from enjoying their outdoor living spaces," said W. Scott Baker, President and CEO of National Nail. "The Edge Pro eliminates these common problems by attaching the deck board through the edge, allowing the homeowner to enjoy a beautiful, fastener-free deck surface."
The CAMO Edge Pro is ideal for anyone looking to speed up the installation process and reduce the costs associated with fastening deck boards. "By reducing labor costs and eliminating the expense of hidden clips, builders can now offer homeowners a great looking deck at a lower price," Baker added.
Combining the speed of a collated tool with the convenience of stand-up installation, the Edge Pro is compatible with any type of deck board material. Treated wood can be installed with no-gap, or secondary spacers can be used to create any gap size required.
Powered by a Milwaukee drill, the Edge Pro utilizes 2-3/8" CAMO Collated Hidden Fasteners available in ProTech coated and 316 Stainless Steel. The tool package includes an Edge Pro attachment, the drill and a carrying bag.
For more information or to locate a dealer, visit http://www.camofasteners.com or call 1-800-968-6245.