Kohler 55REOZT4 Diesel Mobile Generator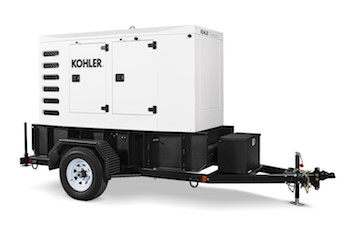 Kohler Power Systems is a adding a new model to its robust line of diesel-powered mobile generators. The 55REOZT4 offers customizable options to meet the varying needs of end users and features Kohler's unmatched quality, reliability and flexibility.
"The 55REOZT4 is a great addition to our diesel mobile generator line and is ideal for a wide variety of settings where power is needed – from remote construction sites to large-scale events," said Anne Feudner, product manager for Kohler Power Systems. "This new model is being offered in response to the strong feedback we've received to our existing diesel-powered mobile units. This is the fifth model introduced within our Tier 4 Final lineup and is capable of a 46-48 kW standby rating and 42-43 kW prime and continuous rating."
The 55REOZT4 is EPA emission certified for non-road use and comes equipped with a rugged DOT-certified trailer and durable enclosure. Like all Kohler gaseous and diesel mobile generators, the new model is compatible with the company's recently launched Mobile Paralleling Box, which delivers cutting-edge flexibility by allowing users to parallel different sized generators with different fuel types to optimize power for the specific task at hand.
The 55REOZT4 integrates a number of user-friendly features to deliver straightforward operation and dependable performance in the field, including:
• A heavy-duty air cleaner with restriction indicator
• Fuel tanks sized for 24-hour runtime
• External emergency stop
• Stainless steel door latches and hinges
• Two-way fuel valve to easily switch from onboard to external fuel sources
• Three position selector switch
• A cold weather package that includes block and battery heaters
• A convenient single point lifting eye
• Durable steel sound-attenuating housing with quiet operation of 69 dB(A) at 7 m (23ft.) at full load
• A patented housing that lifts off without removing external hardware or wiring
The 55REOZT4 features Kohler's powerful KDI 3404 engine, which achieves Tier 4 Final emission compliance without a diesel particulate filter (DPF) due to a number of innovative design features, including Kohler's direct injection system, cooled exhaust gas recirculation (EGR) and diesel oxygenated catalyst (DOC). A high-pressure common rail system (CSR) is also integrated, which utilizes pressures at 2000 bar (29,000 psi) to deliver better atomization of fuel, improved fuel consumption and a reduction in emission particulates.
Advanced Digital Controller
The Kohler Decision-Maker 3500 digital controller, featured on the 55REOZT4 generator, provides intuitive displays and keypad functions, plus advanced network communications for remote monitoring. Other features include:
Parallel capable system with an easy-to-read 4.3-inch LED backlit color graphic LCD display
Remote-start and remote-stop convenience
Potted circuit board and sealed connectors to protect against environmental conditions
Auto-sensors on the selector switch setting, eliminating the need to program voltage changes
Voltage, current, frequency and power monitoring
Analog inputs, warnings and faults monitoring