Air Tools: KT Pro NE-0413 Air Ratchet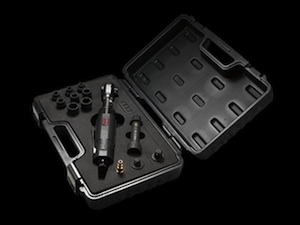 The NE-0413 isn't limited by such things as bolt length. If you're looking for a no-compromise air ratchet, look no further than the NE-0413. The innovative kit allows bolts up to a 1/2" thick to pass through.
Plus the NE-0413 is available in SAE and Metric sizes. The reliable sets also includes 9 sockets, a 3" extension bar, 1/2" and 3/8" Adapters and a 1/4" NPT air adapter.
Contact sales@kingtonyamerica.com or call toll free at (877) 708-6657.
www.kingtonyamerica.com