Material Handling: CS Unitec PORTAMIX HIPPO Mixing Station
One person can mix, transport and pour directly onto the floor.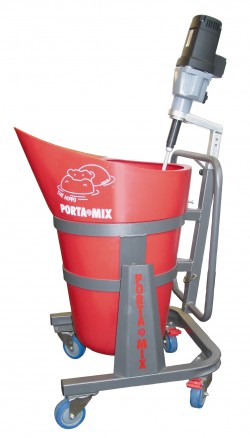 CS Unitec's new PORTAMIX HIPPO PMH 70F mixing station allows for quick mixing and accurate placement of construction compounds, boost productivity, lowering labor costs and reducing physical effort. Cement screeds, grout, mortar, texture coatings, sealants, adhesives and other self-leveling compounds and construction materials can be easily mixed in a short time. With the HIPPO PMH 70F, one person can mix, transport and pour directly onto the floor.
The PMH 70F features an "Easy-roll Trolley" and balanced "Easy-tilt Cradle" which allow the user to pour, accurately place and spread up to 20 gallons (4- or 5-bag batches) of material at the same time. Multi-stage pours to achieve a thicker screed are often not necessary.
The specially shaped mixing bowl eliminates pockets of unmixed product producing excellent mix consistency and also makes cleaning out easy.
The bowl's spout lets the user pour into small containers without mess or waste. The tilting cradle is balanced for easy operation. Additionally, the mixing motor can be reverse-mounted for "alongside" mixing in smaller containers.
The HIPPO is supplied with two mixing paddles designed with a special helix ribbon and side bars. They lift and shear the product quickly and efficiently to produce an excellent mix consistency and thorough mixing of colors and additives.
The large 8" diameter of the paddle provides an increased peripheral speed which eliminates the need for high RPM mixing and helps to prevent any flash curing.
The PMH 70F has a 16 Amp/1800 Watt, 2-speed motor and operates at a load speed of 140 RPM and 470 RPM. It has a full-brim capacity of approximately 20 gallons, or 290 pounds.
Equipped with heavy duty casters, the PMH 70F moves freely on level floors. Wheel covers ensure that the casters remain free of screed splatter.
The HIPPO PORTAMIX will be on display at World of Concrete, Booth # S12227