Stationary Tools: SawGear Automatic Lineal Cutting System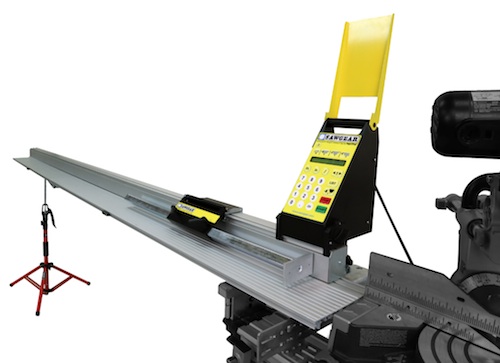 SawGear, the highly portable, automatic lineal cutting system made by TigerStop, has added jobsite tables to its product line. The new tables are available in 8-, 12-, and 16-foot working lengths, and users can add on in-feed tables made to customized lengths for added convenience.
SawGear now comes standard with a feature called Crown+MiterPro, which instantly calculates difficult crown angles and lengths, making the entire product offering an on-site solution for increased productivity while providing shop-accurate results.
"With the tables to support your materials throughout their length, you are guaranteed accurate cuts every time," says company founder and President, Spencer Dick. Dick continues with, "SawGear, now with Crown+MiterPro and the new tables, helps you control most cutting variables and eliminate a huge portion of human error, so you're increasing your yield from your raw materials as well as increasing the accuracy and quality of the work that's done."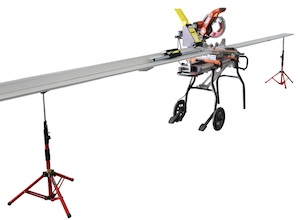 The tables come in three different lengths to accommodate the 8-, 12-, or 16-foot working length SawGear. The design incorporates a hinge system and tripod supports, making the tables easily transportable, simple to level and quick to set-up and break down. Also available are customizable in-feed tables.
SawGear easily attaches to either side of a miter or chop saw, providing automatic and accurate length measuring on the jobsite. Because lengths are simply entered into SawGear's keypad, the need for repeated measuring is eliminated, saving time, reducing material waste and vastly increasing efficiency. From framing to finish carpentry, SawGear's easy-to-use technology improves the accuracy of every cut to within 1/128".
SawGear sets up in minutes, fits on either side of the saw, and can store up to 100 cut dimensions, and includes an anti-theft feature which makes the tool useless to thieves as well as an anti-pinch safety system.
SawGear is ideally suited for:
Framing Siding
Forming Trim
Finish Carpentry Tube and Pipe Cutting
Cabinetry Extrusion Cutting
Installation Crown Molding, Rafters, and Complex Angles
Visit www.sawgear.com or phone 360-254-0661.