Stationary Tools: DeWalt DWE7499GD 10-inch Jobsite Table Saw with Guard Detect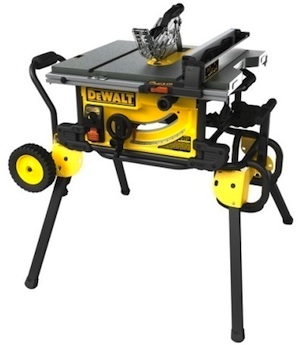 DEWALT introduces the new DWE7499GD jobsite table saw with the Guard Detect feature. The DWE7499GD is the fourth model in DEWALT's new line of jobsite table saws.
The guard on the DWE7499GD table saw must be installed in its proper position for the unit to be turned on, or the user must activate an override switch to use the unit without the guard installed. When the guard is not in its proper position, an LED light flashes to warn the user of that condition.
"DEWALT developed the Guard Detect feature to further enhance our safety warnings to use the guard whenever it can be used," says Jason Ducker, Product Manager, DEWALT. "Guard Detect requires user interaction with the tool and the user's awareness of the guard position before they perform cutting applications."
The DWE7499GD also includes a no-volt switch which maintains the unit in the off condition, when power is lost, until the user activates the switch. Also included is a 2 1/4" dust collection port on the table saw that can connect to a shop vacuum for efficient dust collection.*
The rolling stand on the DWE7499GD allows it to be easily stored and transported on and off the jobsite, and the innovative fence design provides 32 1/2" rip capacity that allows a variety of wide shelving and trim materials to be easily cut. This table saw also includes a 15-Amp motor capable of the cutting performance that professional users need and demand. The DWE7499GD weighs 90 lbs. with the stand.
The DWE7449GD jobsite table saw will retail for $749.00, will come standard with a three-year limited warranty, one-year free service contract, and 90-day money-back guarantee.
*An adaptor and shop vacuum (sold separately) may be required.