Material Handling: LiftPod by JLG
Portable aerial platform is powered by an 18-volt drill.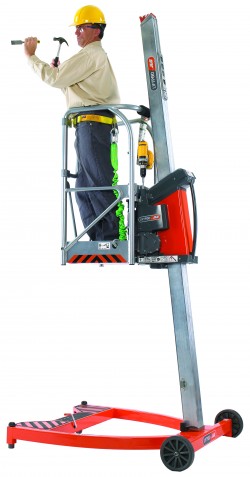 The LiftPod by JLG is the first personal and portable aerial work platform designed as an alternative to the ladder.
Powered with any common 18-volt cordless drill and easily transportable in the back of a van, pick-up truck or SUV, the LiftPod provides users a 360-degree range of motion and the ability to work with both hands at a working height of up to 14 feet.
The lightweight design and compact size of the LiftPod allow a single person to move it around on the work site with its non-marking polyurethane wheels.
It also can be assembled by one person in less than 30 seconds.
The LiftPod is operated with a typical 18-volt cordless drill or an optional power pack and a pair of two-hour quick-charge NiMH batteries to allow continuous work, with about 20 up-down cycles per battery.
The LiftPod weighs 145 pounds and consists of three main sections: the base, the mast and carriage, and the platform. The heavy-duty, powder-coated steel base's castor mechanism locks when the LiftPod is in use and provides mobility when it is set up.
The mast consists of aircraft-quality aluminum, and the platform has a 330-pound capacity at maximum elevation. An attached work tray holds tools and materials, allowing LiftPod users to efficiently work with both hands.