Material Handling: Rubbermaid Heavy-Duty Material Handling Carts and Trucks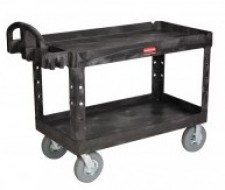 Rubbermaid inaugurates a new standard of excellence in heavy-duty carts and trucks.
Rubbermaid Commercial Products (RCP), the leader in durable facility maintenance solutions, proudly introduces a new standard of excellence in heavy-duty carts and trucks. This line of heavy-duty material handling solutions has been significantly redesigned and expanded into new categories, new products, and new innovations to help end-users work smarter, faster and safer.
"The new Heavy-Duty Material Handling Carts & Trucks line consists of 55 products for end-users on construction sites, in manufacturing plants or within office buildings.
Duramold structural resin and metal composite structure has the highest strength-to-weight ratio when compared to other metal, wood and solid plastic decks and has been tested to hold and transport up to 2,500 pounds of weigh load capacity — almost 40 buckets of sheetrock compound. Duramold decks won't warp, dent, splinter, rust or rot, absorb impact and resist most chemicals.
Variable grip-height handles on carts and trucks improve maneuverability and reduce muscle strain for most users, regardless of height. Optimal caster options are installed on each product.