Gas Engine Equipment: Makita EK7651H, World's First 4-Stroke Power Cutter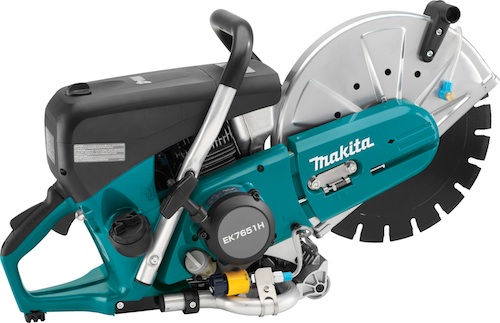 Makita cut a wide swath through The World of Concrete with the world's first 4-stroke power cutter, the 14-inch 76 cc 4-Stroke Power Cutter (model EK7651H).
"Engine seizure due to improper fuel/oil mixing is one of the most common failures of 2-stroke commercial power cutters," said Adam Livingston, Product Manager, Commercial Products. "Makita has delivered the solution with the development of the world's first 4-Stroke Power Cutter. This new 4-Stroke power cutter runs quieter, idles smoother and is more fuel efficient. It also has several innovative features including automatic decompression, which reduces pull-starting force by 40%, and an integrated wheel kit that retracts when not in use. This latest innovation from Makita goes beyond exceptional tool performance, as users will now need only one gas can for all their power equipment."
Makita 4-Stroke Advantage
The new 4-stroke EK7651H delivers several advantages over 2-stroke:
No oil mixing simplified operation and prevents engine failure due to improper mix
Eliminates the need for separate mixed oil/fuel can
Lower noise at 106.5dB(A) and smoother idle for continuous operation
Lower fuel consumption at .45 gallons per hour
Reduced exhaust and intake carbon build-up for long cylinder life
Three-ring piston for improved commercial engine durability
Improved Performance
The new EK7651H has a 4.6 cu.in. (76 cc) engine with 4.1 HP (maximum horsepower) and a no
load speed of 9,350 RPM to take on the most demanding applications. The automatic engine
decompression valve is engineered into the cam gear to reduce pull start force by 40%. In
addition, the EK7651H has a five-stage foam-paper-nylon filtration system with advance
direction air flow to provide cleaner air for improved engine durability.
The power and performance features of the EK7651H make it a best-in-class 14" power cutter
for a range of professional concrete cutting applications and is ideal for landscapers, road
construction crews, railroad crews, rescue crews, general steel contractors, masons, and welders.
Specifications
Engine displacement: 4.6 cu.in. (76 cc
Max power: 4.1 HP / 3.0kW
No Load Speed: 9,350 RPM
Fuel: Unleaded gasoline
Fuel tank capacity: 37.2 oz.
Wheel: max spindle speed 4,300 RPM
Wheel diameter: 14"
Arbor: 20mm 1" adapter
Dry Weight: 28.4 lbs.
Includes Tool, tool kit, oil bottle, water supply kit, adapter ring, pre-filter set