Threaded Fasteners: SPI White Head-Trim Head Screws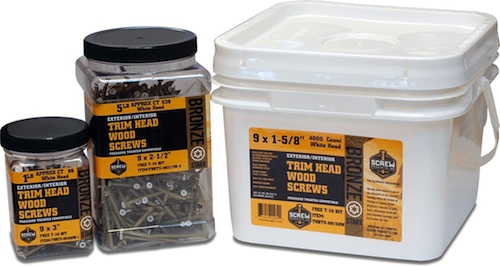 Screw Products, Inc. has added a new fastener to its extensive product line: white head trim head screws, an exterior/interior multi-purpose screw appropriate for a wide range of projects.
These fasteners may be used with ACQ and CCA pressure treated lumber thanks to a proprietary coating designed to protect against corrosion, and that has withstood 1,200 hours of salt spray testing.
In addition, they are ideal for materials with a white finish including decking, fascia, fencing, siding, trim and more. Available in multiple sizes – 9 x 1 5/8, 9 x 2, 9 x 1/2, and 9 x 3 – these screws can also be ordered in various quantities, including jars, and pails, and each package includes a free T-20 drill bit.