Stationary Tools: Tormek T-4 Water-Cooled Sharpening System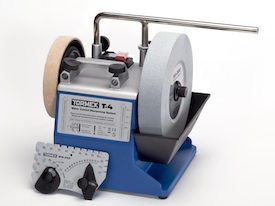 Tormek, introduces the T-4, the second generation of Tormek water-cooled sharpening systems. The newly designed T-4, ideal for sharpening hand tools, knives, scissors, woodturning and woodcarving tools, was developed to take precision and stability to a new level.
All the vital functions of the T-4, such as the motor and the main shaft, are mounted in a solid zinc cast top, which also includes the patent-pending integrated sleeves for the Universal Support. The result is a rigid machine with a significantly improved level of precision for the Universal Support, which is the base from which all the Tormek jigs operate.
The new cast zinc top section also has an integrated handle, an appreciated feature which makes the machine easy to move and place when necessary. Another new detail is the metal machine plate which can be a convenient place to store the included Tormek AngleMaster (with magnetic feet). The Tormek T-4 can be customized and configured with Tormek jigs to fit specific sharpening needs.
"We have made significant enhancements with our second generation T-4, such as improving the rigidity by 300 percent and, with the new patent-pending Tormek design of the sleeves for the Universal Support, we have been able to minimize the play by 50 percent," said Håkan Persson, CEO for Tormek. "Combined, these improvements will affect your control of the sharpening and increase the precision of your result."
Start up accessories included with the T-4 are the Stone Grader SP-650, AngleMaster WM-200, honing compound, DVD and the comprehensive Tormek Handbook on sharpening.
The Tormek T-4 has a $399 MSRP. For information, contact Affinity Tool Works at 248-588-0395.