Drill Bits: DEWALT Compact Tough Case Drill Bit Sets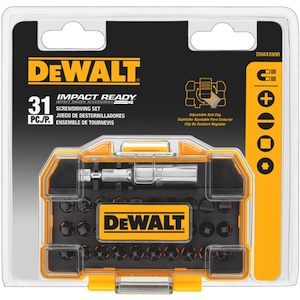 DEWALT announces three new 31-piece Compact Tough Case sets that make organizing and storing bits easy. These cases are perfect for mechanical and general contractors and for any applications where drills and impact drivers are used.
Each of the three sets is designed for different uses:
the DWAX100 is a versatile set for most contractors,
the DWAX200 contains security bits and is for maintenance, electronic and installation professionals who require tamper-proof fasteners, and
the DWAX100IR is for those who rely on their impact driver for all of their fastening needs.
All three cases are 3" x 4" and contain 31 bits. With the bits standing vertically, removal and replacement can be done easily while maintaining organization. An adjustable belt clip on each case allows for convenient transport.
Although similar in appearance, the cases vary with contents.
The DWAX100IR includes the most common IMPACT READY bits in a screwdriving set. Tips include Phillips, slotted, square and Torx.
The DWAX200 set contains security bits including spanner, clutch, tri-wing, Torx security and hex security tips for tamperproof screws.
The DWAX100 contains S2 Modified bits (steel) for durability. Additionally, the sets have a magnet bit tip holder for 1" bit tips.
The Compact Tough Cases are now available in distribution. The DWAX100IR retails for $11.97, the DWAX200 for $10.97, and the DWAX100 for $9.97. The cases will come standard with a 90-day money-back guarantee.
For more information, visit www.dewalt.com