Cables & Lights: Stanley Clamping Flashlight
Spring-loaded clamp attaches to pipe and objects up to 3 1/2 inches thick.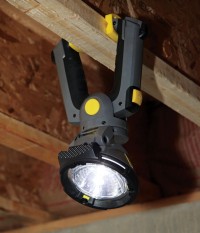 Stanley's innovative clamping flashlight features a spring-loaded clamp that can be attached to objects up to 3-1/2 inches thickthat allow the light to attach to ceiling beams, floor joists and even pipes to overcome the challenges of working alone in low-light situations. Its durable non-marring rubber feet ensure a firm, slip-free grip onto objects during use.
Users have infinite possibilities when it comes to adjusting the light's powerful 80 lumen beam onto the work area. The patented head rotates 350 degrees and tilts as much as 120 degrees.
A rubber shock-resistant head withstands accidental drops and provides added durability.
Its patented battery technology can accept either two or four "C" cell batteries to provide up to 30 hours of reliable run time.
For more information about these and any other Stanley products, call 1-800-STANLEY.