Professional Measurement: Topcon PS Series Total Stations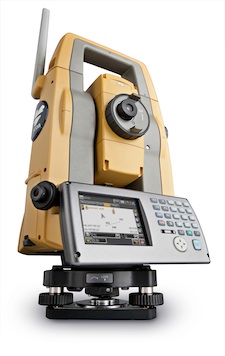 Topcon Positioning Systems introduces a new, professional-grade robotic total station – the PS series – designed to surpass the power, accuracy and capabilities of other robotic total stations on the market.
The PS utilizes Topcon's new PowerTrac technology to increase the prism tracking power.
"Using new optics, laser system and advanced algorithms, PowerTrac provides the PS with the ability to keep tracking a moving prism even under the toughest environmental conditions," said Denny Welch, senior vice president of the TPS Survey Business Unit.
"The PS has an extremely fast and powerful EDM (electronic distance measurement) and with the new MAGNET software onboard, each PS total station is ready for both one-man and two-man field operations," said Welch.
The PS employs a phase shift EDM that has a smaller beam width than other reflectorless instruments in its class. The Topcon algorithm reduces the noise associated with reflectorless measurements providing an accurate result to most surfaces over longer distances up to a 3,280 ft (1,000m) non-prism range. Topcon's smaller beam width allows measurements in tough situations such as through a chain link fence to a building or other critical surface.
The PS series is built to be rugged, both waterproof and dustproof, and has an advanced security and maintenance system – TSshield, an exclusive communications module – LongLink , and an integrated remote system – RC-5.
TSshield, Topcon's exclusive telematics-based multi-communications module provides security and maintenance capabilities. If the PS has been reported stolen, a signal can be sent to the instrument to disable it. To keep the instrument's operating system up to date, a cloud-based server sends a message to the PS to advise the operator that a newer firmware version is available for download. With TSshield, owners can even track the instrument location on a web-based map view.
Another of Topcon's exclusive technologies – LongLink – provides operational capabilities never before offered in a robotic total station, Welch said. "With a 1,968-foot (600m) wireless communication range, LongLink allows full operation of the PS from the prism pole, using the RC-5 remote system, field controller or Topcon Tesla tablet."
The PS is designed for use on a wide-range of applications – building layout, earthwork volumes, land surveying, construction stakeout and even machine control LPS operation.
Additional features of the PS series include:
IP65 dust and waterproof rating
Automatic angle measurement calibration
Large graphic and color touchscreen
Backlit keyboard for use in bright or low light
USB flash drive port
Availability in 1- and 3- arc second models for the North American market