Measuring: Calculators for Pipefitters, Plumbers
New handheld calculators are specifically designed for pipefitting and plumbing trades.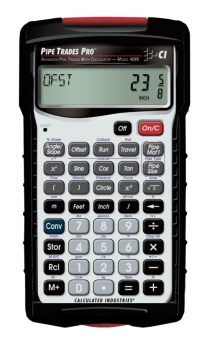 Calculated Industries, maker of the award-winning Construction Master calculators, has developed two new handheld calculators specifically designed for the pipefitting and plumbing trades.

Designed with extensive input from industry professionals and educators, The Pipe Trades Pro and PlumbingCalc Pro are lightweight, easy to carry, work with feet-inch fractions and include built-in reference tables for various pipe types, materials and sizes of pipes. Both provide a simple way to deal with conversions and calculations, including flow rates, velocity, force, pressure, volumes, slopes, percent grades, drops (run, rise and pitch), offsets and fill weights, and include a built-in right angle math and pressure drop for any pipe size, type or distance.

The Pipe Trades Pro even solves rolling offsets, parallel pipe cutbacks, and has functions for advanced math, including trigonometry and exponential functions.

"Having the answer to these complex calculations within easy reach, in a fast and accurate form is much easier than trying to remember the formulas or going through the trouble of looking them up in a reference book or on a chart," says Mark Paulsen, vice president of marketing at Calculated Industries. "These tools will save time and money when fitting pipe, where tight working areas and the potential for misalignment are challenges for pipe pros."

The Pipe Trades Pro ($89.95 MSRP) version is designed for pipefitters, sprinklerfitters, steamfitters, welders and plumbers who install pipe.
The PlumbingCalc Pro ($69.95 MSRP) is designed for those who design, install and maintain plumbing systems in commercial, industrial, municipal, and larger residential projects.
Both calculators are rugged — and come with a dust, shock and moisture resistant Armadillo Gear cover.