Measuring: Toshiba IP66-rated IK-WB80A Security Camera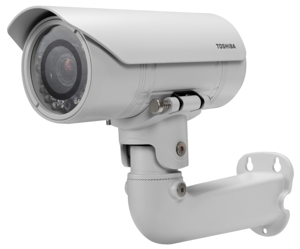 Brings Advantages of IP Video Surveillance to Outdoor Applications
All In One, IP66-rated IK-WB80A Eliminates Need for Protective Housing
IP network cameras have transformed video surveillance, empowering security professionals to remotely monitor their systems over the Internet. Yet because the internal electronics of an IP camera are far more sensitive than those in traditional analog models, it's proven to be a challenge to safely mount IP cameras outdoors without an expensive protective housing.
Toshiba hopes to change this with the introduction of its new IK-WB80A, a highly ruggedized IP camera built to withstand extreme heat and cold, snow, sleet and rain, even vandalism - all without the purchase of an enclosure. The camera's metallic housing meets the demanding IP66 international standard, meaning that the IK-WB80A can be used with confidence outside in any type of weather. Plus, the imposing Toshiba housing conveys the presence of the highest level of video security available to would-be thieves or vandals.
Toshiba engineered the IK-WB80A with high-quality video surveillance in mind. This is why the camera features a two-megapixel CMOS imaging sensor and a Vari-focal lens with 3x optical/4x digital zoom. The resulting 1600 x 1200 resolution captures large outdoor spaces, such as a parking lot or office entrance way, to give users a single large image rather than juggle multiple video streams from several lower resolution IP cameras.
For superior night-time viewing the camera features IR illuminators that are effective up to 75 feet in complete darkness, along with a true day/night IR cut filter. Power over Ethernet (PoE) connectivity lets the camera be powered using the same Ethernet cable as the data, simplifying outdoor installations and giving more options for camera mounting.
Other features of the IK-WB80A are:
Dual MPEG4/MJPEG video streaming for simultaneous viewing and recording Built-in slot for SD and SDHC memory cards to record "at camera" Tamper and motion detection with email alerts Two-way audio for on-site communications Privacy masking.