Professional Measurement: Klein VDV Distance Meter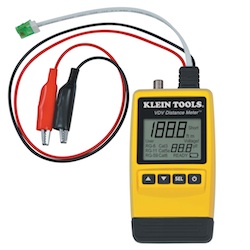 Klein Tools introduces the VDV Distance Meter for pair-conductor cables. This tool measures cable length, locates faults, in addition to simplifying inventory, estimates and billing jobs. With an entry-level price point, The VDV Distance Meter lets tradespeople test and measure cable with confidence and ease.
Klein Tools' VDV Distance Meter (Cat. No. VDV501-089) measures voice, data, video, doorbell, siamese, lamp-wire and NM cables up to 1,500 feet. It has six pre-programmed nominal cable length constants for RG59, RG6 and RG11 coaxial as well as Cat3, Cat5e and Cat6 twisted pair.
In addition, the VDV Distance Meter lets the user adjust the capacitance/foot constant based on the cable being tested. This tester also ensures compliance and identifies cable runs outside specification. The fault finder feature determines if a cable run is broken or damaged. Furthermore, the VDV Distance Meter saves time and increases efficiencies by measuring cable remaining in a box or on a reel as well as facilitating estimates and billing jobs correctly.
For more information, visit www.kleintools.com.