Professional Measurement: Milwaukee Contact Temp Meter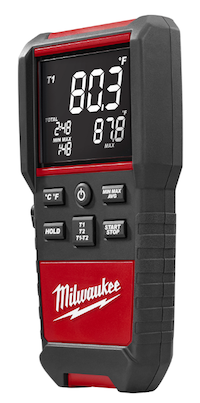 Milwaukee Tool Corporation continues to expand their Test and Measurement line with the introduction of a Contact Temp Meter. A dual thermocouple input and delta T calculation will allow HVAC professionals to better identify and address temperature issues in heating and cooling systems.
The Milwaukee Contact Temp Meter measures from 2,500 to -325°F (1372 to -200°C), covering the most common applications, and a dual thermocouple input allows for simultaneous measurement of two temperatures.
Using the data collected, the meter will also calculate the Delta T of the two temperatures. A timer function also allows users to track minimum, maximum and average temperatures for up to a 24-hour period and the meter can display measurements in both Fahrenheit and Celsius.
A simplified keypad and interface makes taking measurements easier than ever, and a large, high-contrast white on black display makes reading the display easier from far away and in all lighting conditions. A
dditionally, a magnet and strap makes it easy to hang the meter during use for hands free measurement. Rugged over molding improves grip, making the tool easier to use with greasy or gloved hands, and protects the meter if dropped.
Specifications:
2270-20 Contact Temp Meter
• Measures 2,500 to -325 °F
• Dual thermocouple input
• Magnet and strap for easy hanging
Includes 2270-20 Contact Temp Meter, Magnet Strap, 4 AA Batteries and Manual.