Other Products: BJM Pumps LWA Dewatering Pumps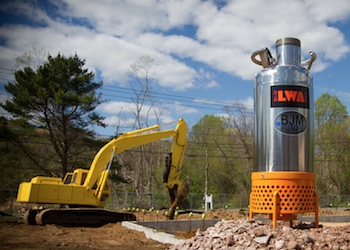 The LWA is a light weight agitator pump that outperforms the competition on very abrasive dewatering applications. It has been successfully used for many applications including those at construction sites, mines, coal prep plants, coal or ash sumps, rock/sand plants, lime slake pits, grit chambers and drillers mud. The LWA has also been used in the oil and gas drilling industry to transfer spent water from large holding ponds.
Features of the LWA series pumps include:
Rugged, long-lasting, light-weight design

Engineered and constructed for dewatering sand, silt, coal fines and abrasive light slurries

Chrome Iron impeller and wear plate

Hardened ductile iron agitator and volute

Built-in agitator mixes settled solids with pump water to restore sump or basin volume
In one case study, the LWA 1500 pumps were the top choice by Lake Point Restoration, an aggregate mining company supplying thousands of tons of aggregate for highways in southern Florida. In order to complete the job, Lake Point needs to keeping rain and wash-down water from overflowing at one of the quarry's crushing and sizing locations. For the full case study, please click here.

For product brochure, operational manual or dimensions please go to Product Information & Literature on the home page at www.bjmpumps.com.
BJM Pumps supplies a wide variety of submersible pumps and pump accessories for many different applications. Some of these products include slurry pumps, stainless steel pumps, corrosion resistant pumps, sump pumps, sewage pumps, trash pumps, sludge pumps, non-clog pumps, solids handling pumps, shredder pumps, vortex pumps, submersible dewatering pumps, sand pumps, agitator pumps, hydraulic pumps, explosion proof pumps, utility pumps and specialty pumps.
BJM Pumps is headquartered in Old Saybrook, CT and has been providing fluid handling solutions for industrial and municipal services since 1983. Over its thirty year history, BJM Pumps has grown quickly by supplying world class pumps and accessories, priced competitively, through its global network of stocking distributors in the United States, Canada and South America. For more information please call 877-256-7867 or visit our web site at www.bjmpumps.com
###