Trex picks SureDrive Hidden Link fastening system
Trex names Sure Drive Hidden Link deck fasteners as primary recommended hidden fasteners for Trex square edge decking.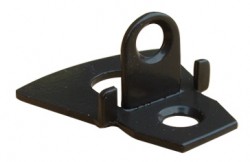 The Trex Company now recommends using "The Hidden Link" hidden deck fasteners as the primary recommended hidden fastener for use with Trex square edge decking profiles. This has been tested and proven to be an effective and easily installed hidden fastener for these profiles. Using this hidden fastener system per the manufacturers instructions and maintaining Trex recommended gapping and spanning guidelines will not adversely affect the Trex warranty.
VIDEO - Click here to see the system in action!
Benefits of the Sure Drive Hidden Link systems include:
• No visible fasteners on deck board face
• Fasteners that are attached to the joists are hidden by the subsequent deck board
• The Hidden Link system allows air to flow between the deck boards and the joist,
enabling the joists to continually dry out (preventing the acceleration of rot)
• No expensive biscuit cutter required
• No hammering
• Works well with exotic hardwoods and composite decking
• Approx. 100 sq. ft coverage using 5.5" deck boards 16" o.c.
• Screws Included.