August/September 2013 print edition of Contractor Supply magazine
The following selected stories appeared in the August/September 2013 issue of Contractor Supply magazine.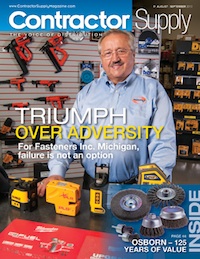 Cover Story: Fasteners Inc. Michigan
Triumph Over Adversity: For Fasteners Inc. Michigan, failure is not an option.
STAFDA News: August/September 2013
Supplier Profile: Osborn International
125 Years of Value
Business Briefs: Rolair Compressors
Distribution Consultant: Jason Bader
Are Titles Important?
Sales Consultant: Joe Ellers
Making the Case for a Killer Sales Team
Plus: Industry Updates on Wood and Metal Cutting Blades, Vacuum Systems, Fall Protection, Generators, Corded Elelctric Tools and much more!