June/July 2015 print edition of Contractor Supply magazine
The following selected stories appeared in the June/July 2015 issue of Contractor Supply magazine.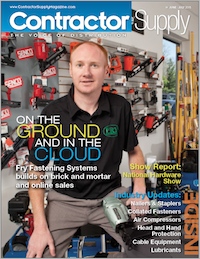 Cover Story: Fry Fastening Systems
Fry Fastening Systems builds its business on brick, mortar and online sales.
Show Report: National Hardware Show
Business Metrics: Jason Bader
Building a branch scorecard.
Warehouse Consultant: Dick Friedman
Using your warehouse to compete with Amazon Business and other e-commerce giants.
Lean Construction
We have seen the future — and it's really well organized.
Plus this issue's Industry Updates.
Click the links below for a PDF of each story.