Measuring: Topcon Pocket 3D software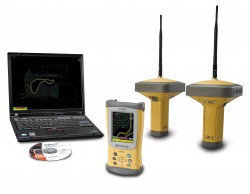 The new version of Topcon Positioning Systems' (TPS) Pocket 3D software – Version 8.06 – offers improvements in construction data collection.
The software is one of the primary components of the Topcon Grade Management System that includes GR-3 GNSS receivers and the FC-120 field controller loaded with Pocket 3D.
Murray Lodge, TPS vice president of construction sales, said, "Simply put, Pocket 3D is the 'heart' of Topcon's machine control grade management system. Pocket 3D is an easy-to-use interface that moves files from 3D machines. Grade can be checked, and cut and fill verified anywhere and everywhere. Contractors can locate tie-outs or reset stakes just by following the screen."
Features and improvements of Pocket 3D Version 8.06 include:
New stakeout polyline and alignment features;
Ability to collect and export cut sheets 'on the fly';
Design files and point files are now sorted alphabetically;
Points are now searchable by point name;
Network connectivity improvements; and
Multiple stakeout and Calc wizard enhancements.
Lodge said, "With Pocket 3D, contractors can measure productivity on a monthly, weekly or even daily basis to make sure they are staying on schedule. This information provides a tool for maximizing equipment utilization – a great way to get the most of their biggest investment."
This new version, as well as other Topcon firmware and software upgrades, are free downloads to Topcon customers from the Topcon support site.