Blades: Bullet Tools CenterFire Dust-free Foam Blades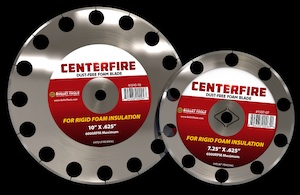 Tired of battling messy clouds of foam board dust and debris? Bullet Tools' new CenterFire circular foam blades cut rigid foam without making a mess and reduce dust by 95% while producing factory-smooth cuts with no kerf.
The new CenterFire dust-free foam blades are the only circular saw blades that cut EPS, XPS & ISO without making a mess, as seen on this one-minute video clip.
Bullet Tools created its new CenterFire circular blade to help improve the lives and the livelihoods of insulation contractors who battle static dust as well as time-consuming cut corrections.
The new CenterFire blades feature a specially-sized cooling void that allows the blades to slice though foam sheets and ICF with no static, clingy dust or irritating odor. The blades cut through most laminated rigid foam facings including paper, aluminum foil, roofing felt and mylar/plastic film.
These new patent pending blades will cut about 25,000 lineal feet before resharpening and are available in 10" for tables saws ($89.95 MSRP) and 7.25" for worm-drive saws ($59.95 MSRP.) The 7.25" blade can be used with sidewinder saws on foam no more than 1" thick or the saw will bog down. The 10" blade comes with a SpeedSpacer or shim to be used alongside the fence to prevent binding. For cross cuts on narrow strips, a miter gauge is recommended.
According to Bullet Tools' President & CEO, Ben Toews, the company spent a year developing the product after identifying the need at last year's ICAA show. "We introduced the dust-free Magnum Shut-N-Cut for compressing and cutting batts quickly and easily without dulling blades and we saw an obvious need for cutting foam sheets without producing static, clingy dust and a big messy clean-up," Toews explained.
Based in Hayden, Idaho, Bullet Tools is a U.S. manufacturer of innovative, cutting-edge installation solutions designed to improve the lives and livelihoods of tradesmen across the globe. The company began in 1998 with a simple idea born of necessity by a longtime flooring installer, Dalen Gunn, who decided there had to be a better way to cut flooring and launched the MAGNUM Shear.
For more information call 800-406-8998, visit www.BulletTools.com
or email Joyce@BulletTools.com