Blades: Freud Track Saw Blades for Festool and Others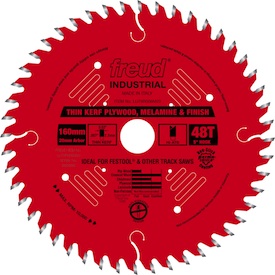 Freud America, Inc. is pleased to introduce a new blade series ideal for Festool and other Track Saws. This new blade series is the FIRST and ONLY one for a Festool Saw with anti-vibration design for smoother, quieter cuts to deliver a better quality finish and longer life. Now, woodworkers will have a high-quality blade to realize the full potential of the Festool Saw.
Freud offers four blades with a160mm diameter and a 20mm arbor; each is designed to provide excellent track saw performance, features include:
Exclusive TiCo Hi-Density Carbide delivers ultimate blade life. Unique TiCo carbide blends composed of sub-micron particles mean the tips stay sharp longer. Plus they have the ability for extra resharpenings for the longest possible return on investment.
Unique Tooth Geometry - Freud's new 48T plywood, melamine and finish blade is the only blade for the Festool saw featuring a Hi-ATB design. This premium grind produces incredibly clean cuts on both sides of fine veneer plywood or melamine panels, even without a splinter guard in place!
Anti-Vibration Design virtually eliminates the sideways movement of the blade in the cut, extending cut life and keeping cut smooth and true.
Thin kerf design reduces waste, feeds easily, and is ideal for underpowered saws.
Perma-Shield Coating prevents build up on the blade surface and keeps the blade running cooler and cleaner.
For more information, visit www.freudtools.com or contact customer service at phone: 800-472-7307 and email: customerservice@freudtools.com.
---