Blades: M.K. Morse 811 High Performance Band Saw Blades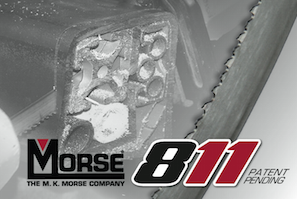 The M. K. Morse Company introduces its new, patent pending design, portable band saw blade, the Morse 811. The new blade design is ideal for cutting a wide range of sizes and types of materials with a single blade.
The Morse 811 combines an aggressive tooth with a variable tooth pattern to reduce vibration and increase cutting speed. High speed steel tooth tips offer superior cutting performance and long life.
In cutting tests, the Morse 811 beat the competition by a minimum of 2 to 1.
The Morse 811 is available in a ½" width, .020" thickness, and is in stock, ready to ship in all popular blade sizes for both corded and cordless portable band saw machines 27-3/16" up to 44-7/8".