Professional Measurement: DEWALT DCT418 Hand-Held Radar Scanner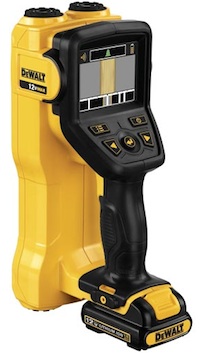 DEWALT introduces the Hand-Held Radar Scanner (DCT418). The DCT418 offers new innovation in the form of radar sensing technology that detects and identifies wood, ferrous metal, non-ferrous metal, live electric wires and PVC behind multiple types of wall surfaces making it ideal for remodelers, installers, service technicians and maintenance personnel.
The DCT418 scans through multiple wall surfaces including drywall, plywood, concrete, marble and ceramic tile at a sensing depth of up to 3 inches. The DCT418 displays objects it detects behind the wall surface on a 3.5-inch LCD color screen.
The DCT418 features a pre-scan mapping mode that eliminates the need for the user to calibrate or choose between settings. The first pass over the wall surface maps all of the detected objects behind the surface. When the user reverses the direction of the DCT418 to scan, the objects detected behind the wall surface are displayed. This pre-scan mapping mode provides both accuracy and ease of use.
Other innovative features include a tracking bar that counts the number of objects detected in an up to 9.8 foot section of a wall surface, and a confidence meter communicates the unit's signal strength. An ergonomic handle with a soft over-mold grip provides a comfortable grip for the user.
The new Hand-Held Scanner will be available in May at distributors. The DCT418 is expected to retail for approximately $299.00, and the kit (DCT418S1) will come complete with one DCT418 Hand Held Radar Scanner, one 12 Volt MAX Lithium Ion battery pack, one fast charger and a kit box. The DCT418 will come standard with a three-year limited warranty, one-year free service contract and 90-day money-back guarantee.