Professional Measurement: Johnson Level Johnny Square Professional Aluminum Rafter Angle Square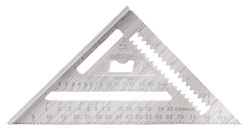 Johnson Level & Tool has introduced the patented Johnny Square rafter angle square. The Johnny Square is a professional Aluminum Rafter Square that includes patented features contractors want and need.
The new Johnny Square is the planet's only 7-inch square with continuous 1/8-inch scribing notches specially marked for 2" x 4" and 2" x 6" rip cuts.
"After speaking with our customers and contractors on their jobsites, it became apparent that scribing notches specially marked for ripping at 3-1/2" and 5-1/2" were needed for fast and accurate measuring," said John Dwyer, Vice President of Sales and Marketing at Johnson Level.
"I have replaced every square my guys and I use because the new scribing notches save us time on every project. It's a no brainer, we need the new features on the Johnny Square everyday and it's the only square that has them," said John Wong, owner of JHW Builders in Milwaukee, Wisconsin and homebuilder for over 25 years.
The Johnny Square is made in America and also features a solid aluminum body with CNC machined edges for greater accuracy and durability, and permanent graduations and numbers on a low-glare, protective powder coated finish for easy reading.
The Model No. RAS-1 Johnny Square is just one of the squares Johnson Level offers in their extensive line of rafter, framing, combination and t-squares.