Professional Measurement: Zircon MetalliScanner x8 Metal Locator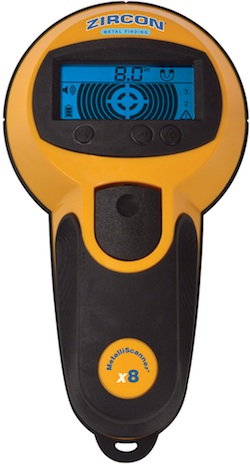 Zircon Corporation announces the first of four X-class series of scanners, the MetalliScanner x8 metal locator. The x8 debuts the new X-class series technology – a major advance in the reduction of detection errors related to external factors– a cost-saving benefit for a variety of construction, building, and remodeling projects.
The MetalliScanner x8 efficiently locates and determines the depth of ½ inch diameter rebar and ½ inch diameter copper pipe up to 8 inches deep and automatically differentiates between ferrous (steel, iron) and non-ferrous (aluminum, copper) metal.
The industrial-grade MetalliScanner x8 has a high-resolution metal detection capability that enables users to more closely "home-in" on copper pipes and rebar in solid concrete, with much greater accuracy and coverage-depth performance than other comparable scanners available on the market today.
The x8 incorporates three adjustable sensitivity levels for easy unit of measure selection and provides simpler and more accurate scanning over rougher, textured surfaces, even lath and plaster, and detects and pinpoints targets at a much greater depth than conventional technologies. Prior to the x8, uneven surface materials proved to be problematic for construction professionals but replaceable glide pads assist in smoothing the scanning process. The use of glide pads, instead of rollers, allow the unit to effectively scan both horizontally and vertically, rather than only on a single horizontal plane. The x8 uses patented active, inductive, and capacitive techniques during the calibration process to minimize detection mistakes.
With its ergonomic design, large backlit transflective display for better viewing in both low light and bright light conditions, integrated marker system, and pivoting handle attachment for easier scanning of walls, floors and ceilings, the x8 is the professional scanning tool of choice. Whether drilling or cutting into concrete or finding pipes and junction boxes behind tile, the x8 can handle the job quickly and accurately, saving time and money.
The x8 comes packaged in a hard aluminum protective carrying case with a pivoting handle attachment for easier scanning of walls, floors, and ceilings, three heavy-duty alkaline batteries, extra marker stamp and glider pads, and a detailed instructions manual.