Stationary Tools: Makita LS0815F 8 1/2 Inch Slide Compound Miter Saw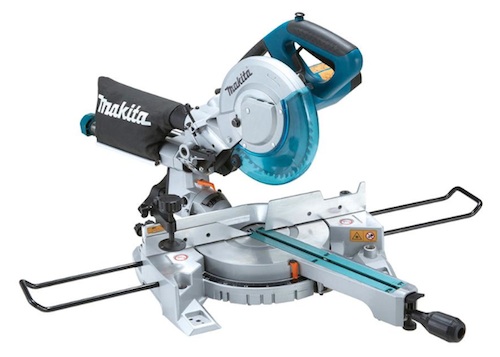 Makita has expanded its line-up of best-in-class miter saws with a new 8-1/2" Slide Compound Miter Saw (model LS0815F). The LS0815F is the most compact in the category, making it ideal for contractors who require consistent cutting performance and superior jobsite-to-jobsite portability.
"Makita miter saws have the features and engineering superiority that places them at the top of their categories, and the LS0815F is the latest addition to this expanding line-up," said Joe Soto, Product Manager, Residential Construction. "The new LS0815F weighs only 31 pounds and delivers dead-on accuracy, so this is a go-to miter saw for contractors who carry a miter saw from job to job or room to room."
Direct Drive: A Key Point of Difference
The LS0815F is powered by a direct drive 10.5 AMP motor with soft start. This is a key point of difference that distinguishes Makita miter saws, including the LS0815F. Users will experience smoother start-ups and constant power with no belts to slip or replace. The electric brake provides added convenience.
Accuracy and Capacity
The linear ball bearing system is engineered to deliver smooth, "dead-on" accurate cuts. At 90° the LS0815F has 12" crosscutting capacity, with 8-1/2" capacity at 45° (miter). The saw miters 0° to 50° left and 0 to 60° right, with positive stops at 0°, 15°, 22.5°, 31.6°, 45°, and 50° (left and right), plus 60° (right). The dual rear-handle bevel lock is easily accessible with adjustments 0° to 48° (left) and 0° to 5° (right) with positive stops at 0° and 45° (left). For improved visibility, the L.E.D. light illuminates the line-of-cut.
Less Weight for Jobsite Portability
The LS0815F weighs only 31.1 pounds, the lowest weight in the category, for superior portability. Additional features include a high-quality 8-1/2" 48T carbide-tipped blade, a see-through blade guard system for greater visibility of the blade and line-of-cut, and a rubberized handle design with large trigger for better fit and added comfort. The LS0815F is ideal for wood floor installation, case and base, crown molding, finish carpentry, cabinet and furniture making, general construction, and more.
Best-in-Class Miter Saw Line-Up
The LS0815F is part of Makita's expanding line-up of best-in-class miter saws that deliver capacity, accuracy, and portability for a range of cutting applications. This line-up includes compound models in the 10" (LS1016L, LS1018) and 12" (LS1216L) categories, as well as the 18V LXT® Cordless 7-1/2" Dual Slide Compound Miter Saw (LXSL01).
LS0815F Specifications:
Blade diameter: 8-1/2"
Arbor: 5/8"
Max. Cutting Capacity (miter 90°): 2-9/16" x 12"
Max. Cutting Capacity (miter 45°, L/R): 2-9/16" x 8-1/2"
No Load Speed: 5,000 RPM
AMPS (120V): 10.5
Dimension (L x W x H): 29-3/4" x 17-3/4" x 19-1/4"
Net weight: 31.1 lbs.
Includes: Tool, 8-1/2" 48T carbide-tipped blade, vertical vice, triangular ruler, box wrench, dust bag
Suggested Retail: $349
For more information, call 800/4-MAKITA (800/462-5482) or go to makitatools.com.