Stationary Tools: SawGear Double MiterPro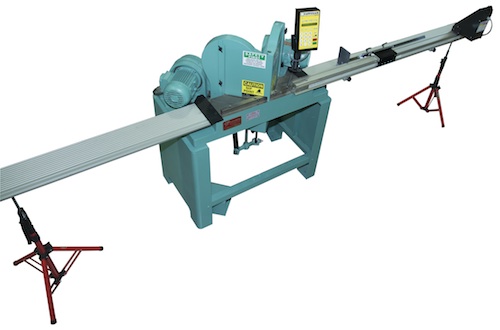 TigerStop's SawGear Double MiterPro kit for double miter saws adds CNC accuracy to length cutting and includes back rabbet compensation software standard for framing applications.
SawGear's Double Miter Pro allows double miter saw users to quickly, easily and accurately change desired finished part lengths rather than manually moving the stops.
SawGear sets up in minutes because it is customized for major brands and models of double miter saws. Users keep their original saw equipment and simply add SawGear to increase productivity and improve work results.
"SawGear has been so successful when used with chop saws and standard miter saws, that we wanted to make it adaptable for use with double miter saws as well," says company founder and President, Spencer Dick. Spencer continues with, "SawGear, with Double MiterPro, can now help double miter saw users work faster and more accurately, by automatically and precisely controlling the lengths they are cutting."
SawGear easily attaches to either side of a double miter saw, attaching to the saw's existing front fence. Because lengths are simply entered into SawGear's keypad, the need for repeatedly moving the stops by hand is eliminated, saving time, reducing material waste and vastly increasing efficiency.
SawGear's easy-to-use technology improves the accuracy of every cut to within 1/128". SawGear sets up in minutes, can store up to 100 cut dimensions, and includes an anti-pinch safety system.
SawGear with Double MiterPro is ideally suited for:
Framing Windows and Doors
Siding Bath and Shower Enclosures
Forming Trim
Finish Carpentry Tube and Pipe Cutting
Cabinetry Extrusion Cutting
Custom Art Frames Crown Molding
SawGear comes standard with a feature called Crown+MiterPro, which instantly calculates difficult crown angles and lengths, making the entire product offering a solution for increased productivity while providing accurate results. SawGear is also available in jobsite configurations designed for miter and chop saws with a whole range of tables and other, highly portable accessories.
To view SawGear videos and testimonials or to request a quote, please visit www.sawgear.com or phone 360-254-0661.