Air Tools: KT Pro 57-Piece Hybrid 3/8" Drive Air Ratchet Set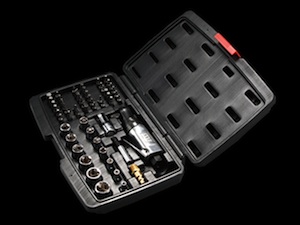 Need a multi-purpose tool? Tired of carrying around different tools for one job? Mighty Seven (M7) has the solution! The NE-0357 is a 57-piece air ratchet set that acts as a 3/8" and a 1/4" drive ratchet. The set also includes a built in bit holder head for 1/4" bits.
The set totals 57 pieces – (1) air ratchet, (7)1/4" Dr. Sockets, (6) 3/8" Dr. Sockets, (40) 1/4" Bits, (1) 3/8" Extension bar, (1) 1/4" Hex size shank driver, (1) 1/4" NPT air adapter. This entire set is encased in a portable
and rugged hard plastic case.
The NE-0357 is available for order now; contact sales@kingtonyamerica.com or call toll free 877-708-6657.