Drill Bits: Vulcan Stealth Points and Chisels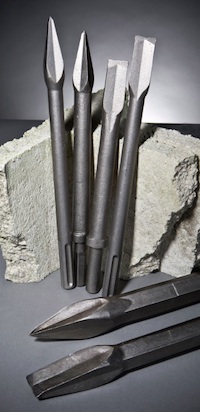 Vulcan Company, Inc. is a fifth generation, family-owned and managed company. Since 1890, Vulcan has built a reputation based on superior, high-quality products, total dedication to customer service and innovative involvement in the needs of its customers.
The Vulcan Stealth line of points and chisels feature more efficient penetration, faster cutting time, self-sharpening blades that deliver longer productive tool life and an enhanced breaking effect.
With their polygon shape and increased number of cutting angles, the Stealth line will maintain better performance over an extended period and will outlast standard design points and chisels by a ratio of three to one.
The Vulcan Stealth design is available in pavement breaker, rivet buster, chipping hammer, and electric hammer shanks.
Please contact Vulcan at 800.247.4770 (phone), information@vulcantools.com or online at www.vulcantools.com.