Drill Bits: Milwaukee Door Lock Installation Kit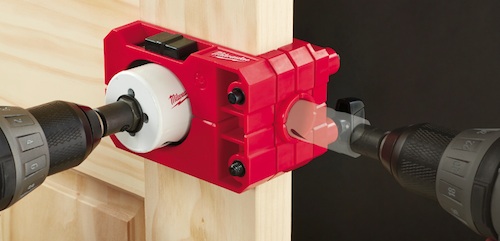 Milwaukee Tool Corporation introduces its new Door Lock Installation Kit. Featuring Milwaukee Ice Hardened Bi-Metal Hole Saws, the kit is designed to provide Professional Remodelers and MRO users an accurate and easy-to-use solution for installing locksets and deadbolts on doors, while solving the common frustrations users often face with existing kits on the market.
Professional features include an Auto-Centering Drill Guide to accurately center the door latch hole, a non-slip clamp design that prevents accidental movement of the guide, an easy to use Backset Adjustment with no loose parts, and an Anti-Splinter Depth Stop for a clean professional finish.
"Other door lock kits on the market are often difficult to use and not very durable," says Ed Lau, Product Manager for Milwaukee Tool Corporation. "Our new Door Lock Kit features high-end professional features at a competitive price to deliver best-in-class performance and value."
Specifications
Milwaukee Door Lock Installation Kit (49-22-4073)
• Wood and Metal Doors
• 1-3/8" to 1-3/4" Door Thicknesses
• 2-3/8" and 2-3/4" Backset
• 2-1/8" Cross Bore Hole
• 1" Latch Bore Hole
Includes (1) Auto-Centering Drill Guide; (1) Anti-Splinter Depth Stop; (1) 2-1/8" Ice Hardened™ Hole Saw; (1) 1" Ice Hardened Hole Saw; (1) Small Arbor & Pilot Bit ; (1) Arbor Adapter and Spacer; (2) 3/32" Drill Bit and (2) 1/8" Drill Bit