Other Products: Reelcraft reels in custom colors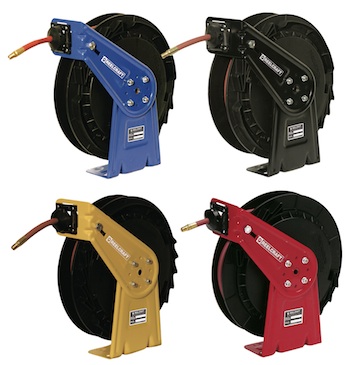 Reelcraft is most well-known for its bright red reels, but we also paint secondary colors and special order colors.
Reelcraft uses a rigorous cleaning process on raw parts prior to paint. After this process is complete, parts are then coated with a high quality, durable polyester powder coat paint for a uniform, corrosion resistant finish that will last through years of service.
Reelcraft frequently paints secondary colors - white, black, blue and grey. There is no set-up charge for secondary colors, only a variable per unit charge. We thoroughly clean our booths and tools prior to painting special order colors therefore require a one-time set-up charge in addition to the variable per unit charge.
We will gladly paint any color of your choosing. Paint sample match is available. For additional information call 1-800-444-3134 or visit Reelcraft at www.reelcraft.com.