JET 10- and 12-inch Dual Bevel Slide Compound Miter Saws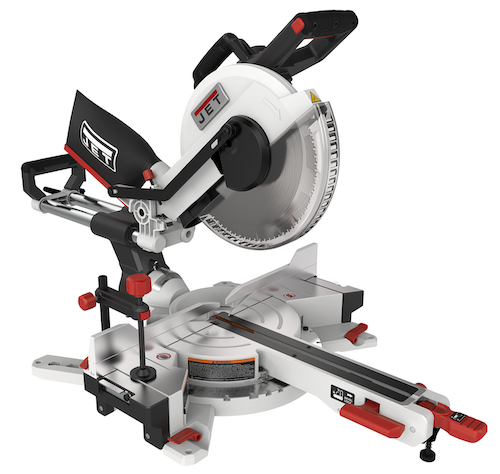 The new JET 10" and 12" Dual Bevel Slide Compound Miter Saws compliment any shop due to their versatility and ability to handle a wide variety of workshop projects at home or on the jobsite. Both saws feature extended tables and include a precision, hi-vis, red laser cutline that's visible in direct sunlight, plus an LED worklight, on separate switches.
Other features include depth stop adjustments for dado or repetitive cuts and an increase in the saw's left bevel angle capacity by 7º. In addition to new features, the JET saws are being introduced at much lower retail prices than the previous versions.
The new benchtop saws shed 4 and 16 pounds respectively while maintaining the saws' integrity and durability through their cast aluminum construction. They are powered by 15 amp, 4200 rpm no-load motors to cut through the toughest materials.
For dust collection, a dust bag is included, as well as a 2-1/2" adapter to connect to a shop vac. JET also offers an optional 4" adapter (JW1000) that connects to any JET dust collection system. There are four mounting holes on each saw, flanked by rubber bumpers that help reduce vibration, while providing stability.
These dual-bevel slide compound miter saws are ideal for cutting miters, bevels, cross-cuts and compound miter cuts in soft and hardwoods. Besides cutting crown molding, trim, window casements, picture frames and more, these go-to machines are ideal for deck building. Both saws are redesigned with an ergonomic D-handle grip suitable for right or left-handed users. For convenient operation, the trigger is built into the handle and lies beneath the user's thumb position on either side of the handle. Enclosed, linear ball bearings provide smooth and controlled slide operation on the saw's rails.
These saws are more compact and portable for transport than previous models. In addition to the D-handle, each saw has a second carrying handle to help facilitate transport to and from jobsites. Each saw also is equipped with a built-in cord wrap for storage.
The JET saws each have a two-part adjustable fence system capable of handling taller materials, such as crown molding. Extension tables slide out an additional for handling longer stock. A quick-adjustment, hold- down clamp also is provided and can be positioned on either side of the blade. New JET Dual Bevel Sliding Miter Saws Page 2 Up front controls provide access to set up 45º dual bevel left or right cuts. Precise miter adjustments include 0 to 52º left and 0 to 60º right with preset detent stops at 0, 15, 22.5, 31.6 and 45º on the left and 0, 15, 22.5, 31.6, 45, and 60º on the right.
The JET 10" and 12" Dual Bevel Slide Compound Miter Saws have a three-year warranty and are backed by the JET Red Assurance service and support program, which features 750 authorized dealers throughout the U.S. The U.S. based customer service program provides tech support as well as extensive online resources, including access to 40,000 unique in-stock parts.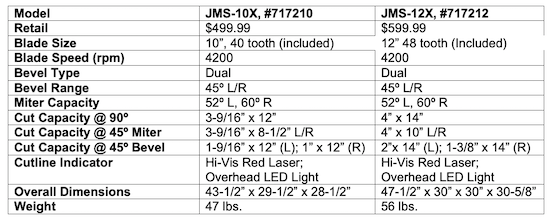 To locate the nearest authorized service center call 1-800-274-6848. Visit www.jettools.com for more information or to locate a dealer for the new JET JMS-10X 10" Miter Saw (717210, $499.99 (Retail Price) and JMS-12X 12" Miter Saw (717212, $599.99 (Retail Price).