Metabo HPT C3610DRJQ4 10 Inch Cordless/Corded Table Saw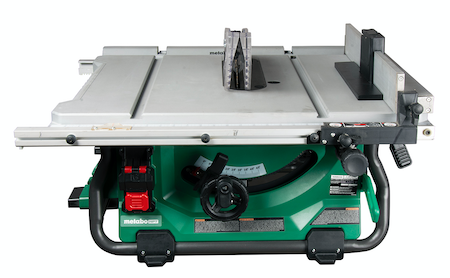 Metabo HPT (formerly Hitachi Power Tools) introduces the industry's first 10" MultiVoltTM Table Saw- model C3610DRJQ4. It's Cordless, It's Corded- It's BOTH! With its large table size and extended rip capacity, this saw from Metabo HPTs MultiVolt platform offers a solid tool for the jobsite.
Metabo HPT's MultiVolt cordless/corded platform meets the power output demand on a jobsite. MultiVolt tools can accept a 36V MultiVolt battery or plug into an outlet with the award-winning AC Adapter that can be used over long extension cords or from a generator with little to no power loss. This unique platform changes what's possible on the jobsite by offering the power of a corded tool, the freedom of a cordless platform and the choice to operate all MultiVolt tools cordless OR corded- YOU decide!
The C3610DRJQ4 table saw offers a working table size that measures 28-3/4" x 22" with an out-feed support of 28-3/4" x 2" for additional material support. With its telescoping table extension set up on the right, it can support a max of 35" rip capacity and 22" when set on the left for maximum flexibility.
It features a 36V DC Brushless motor with a soft start function that reduces noise and recoil at startup. It also offers an electric brake that halts the rotation of the blade within seconds for added safety. The 10" blade can bevel between 0° to 45° for cuts ranging from 3-1/8" (at 0°) to 2-1/4" (at 45°). Both the bevel scale and bevel height adjustment knobs for the blade are situated on the front of the cabinet for easy access and viewing.
The C3610DRJQ4 is also equipped with a 3⁄4" T-slot miter gauge that features a large scale with adjustable positive stops at 0, 15, 30, 45, and 60 degrees to the left and right to help guide material accurately for a truer cut. It can take a dado stack up to 8 x 13/16" for simple dado cuts.
This Cordless/Corded 10" MultiVolt Table Saw features overload protection that automatically shuts off the motor in a possible current overload situation to help prevent damage to the saw. A riving knife is installed to ensure the cut material does not bind and/or kick back during operation. Onboard storage for the push stick, blade guard, anti-kickback pawls, power cord and other accessories add convenience, while the oversized power switch with emergency off safety cover is designed at knee level for immediate shut down as an added safety feature.
Additionally, a dust port situated at the rear of the cabinet measures 2-1/2" and can be connected to a shop vac or dust collection system for a cleaner work environment. Weighing just 67.3 lbs., the table saw's solid construction can be relied upon to last, and with Metabo HPT's professional 2-year tool body warranty- it's a safe bet for the long haul.
The Metabo HPT 36V MultiVolt 10" Table Saw is an ideal choice for any jobsite to make cross cuts, rip lumber, and cut dadoes. It comes complete with a 10" 40-Tooth carbide tipped blade, blade guard assembly, anti-kickback pawl assembly, miter gauge assembly, push stick, rip fence assembly, out-feed support assembly, two blade wrenches, 4mm hex bar wrench and 2.5mm hex key. Optional accessories sold separately include a fold & roll stand (374769), dado table insert (374761), MultiVolt 36V battery (372121M), MultiVolt AC/DC Adapter (ET36A) and MultiVolt 36 Battery/Charger Starter Kit (UC18YSL3B1).
The MultiVolt Platform
Experience tells you corded tools have more power than cordless. That may have been true UNTIL NOW. Metabo HPT's MultiVolt platform delivers the power needed to increase productivity and efficiency- regardless if the tools are being operated cordless or corded. Experience a safer jobsite by leaving the cord behind and choosing cordless when a cordless tool makes sense for the application. Go cordless when you don't have access to power and need to be able to move where the job takes you. When you do have access to power, save the battery for later and just plug in. MultiVolt makes this possible.
MultiVolt batteries were designed with 18V tools in mind. The battery delivers 4.0 Ah of runtime at 36V in MultiVolt tools. It can also power Hitachi or Metabo HPT 18V cordless tools including cordless nailers for increased flexibility and multipurpose use. When the MultiVolt battery is used with the 18V tools, it generates an impressive 8.0 Ah of run time. Continue using Hitachi or Metabo HPT 18V tools and experience a longer battery life with MultiVolt battery innovation.
Metabo HPT's MultiVolt platform gives the choice to go cordless or plug in - all with the same tool eliminating the need to have a corded tool AND a cordless version available on the jobsite. Choose MultiVolt to get the best of both worlds. Freedom is portability on the job. Or, if there's power available, insert the MultiVolt AC Adapter and reserve the MultiVolt battery for when you need portability to suit the application.

Metabo HPT (formerly known as Hitachi Power Tools) offers an extensive line of professional grade power tools and accessories for woodworking, metalworking, drilling and fastening, concrete drilling and cutting, outdoor power equipment products as well as a complete line of pneumatic nailers, staplers, compressors and collated fasteners. From headquarters in Braselton, GA, and satellite offices in the United States and Canada, Metabo HPT supports over 4000 retail locations and over 1000 authorized service centers. Metabo HPT is a brand within Koki Holdings America Ltd., the North American division of Koki Holdings Co., Ltd. Visit www.metabo-hpt.com.