Next Wave Automation CNC Shark HD5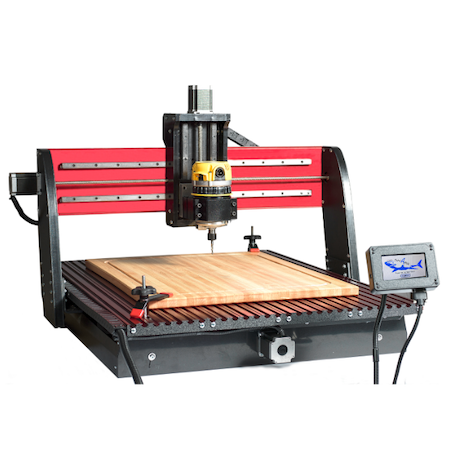 Wave Automation has just announced a July 17, 2019 product launch date for the CNC Shark HD5, its most robust and feature-rich machine to date. CNC Shark HD5 includes patented Virtual Zero Unlimited software as well as Ready2Control for multiple machine operation.
It is the latest addition to the company's well-known Shark line of small format CNC machines for professional woodshops, hobbyists and makers. The new CNC Shark HD5 is designed for use with 2-1/4HP routers or Next Wave's water-cooled spindle and is built in the USA with industrial grade components.
Through September 30, 2019, Next Wave will be including a Dewalt DW618 router at no extra charge as part of an introductory product promotion.
"The new CNC Shark HD5 is an amazing machine," says Tim Owens, Next Wave Automation's founder and CEO. "We purpose-built the HD5 to be the best-in-class, small format CNC for performance, value and support – and I'm thrilled to say that we've achieved that end." Owens ends with, "There's nothing else out there that comes close to this CNC and we anticipate that many people will discover that the HD5 is the tool that truly completes their shop."
More about CNC Shark HD5 features:
Built to be used with large, 2-1/4HP routers or Next Wave's water-cooled spindle (sold separately) – the CNC Shark HD5 can handle virtually all shop machining needs
Dewalt DW618 router will be included with purchase through 9/30/19
Virtual Zero Unlimited - patented Next Wave software maps the surface of the material by taking an unlimited number of reference points. The program then uses these points to auto adjust the G-code to conform to the actual surface of the material. This eliminates problems caused by a warped or bowed work piece by maintaining a constant cutting depth on projects that other machines would not be able to handle.
Colored touch screen pendant controller
Ready2Control, a computer control panel software featuring multi-machine operation, start, stop rewind, and go to G-code location as well as project queuing for reliable bit change applications
Includes the latest edition of Vectrics VCarve Desktop design software
Vector Art 3D Sampler Pack
X & Y homing capability
XYZ travel: 25'' x 25'' x 7''
Table dimensions: 28'' x 36'' - overall dimensions: 36-1/4''W x 36''L x 24-1/2''H – also available with an extended, 50" base
Linear guides and bearings on the gantry
Anti-backlash, wear-compensated leadscrews on all axis
Interlocking rigid aluminum table with virtually unlimited clamp positioning
Aluminum gantry backplate for heavy machining capabilities
Aluminum router mounting clamp
Steel encased gantry legs for increased rigidity
Automatic router on and off control
USB interface
110/115 V
Made in the USA
One-year warranty on parts and labor, special shipping exclusions apply
More feature-rich than any other comparable CNC
Wide array of accessories available for a wide array of processes
Lifetime technical support
See the new CNC Shark HD5 at the AWFS Fair in Las Vegas, July 17-20, in Next Wave Automation's Booth #7978
Founded in 2007 by CEO Tim Owens and based in Perrysburg, OH, Next Wave Automation is a U.S. manufacturer of affordable CNC routing equipment and automated machinery for professional woodworkers and woodworking hobbyists of all levels. With core company values of customer service and technological scalability, Next Wave Automation is at the forefront of small shop automation and incorporates versatile compatibility between components and products whenever possible.
For more information about Next Wave Automation, go to www.nextwaveautomation.com or call 419-318-4822.