JET 13 Inch Benchtop Planer with Helical Style Cutter Head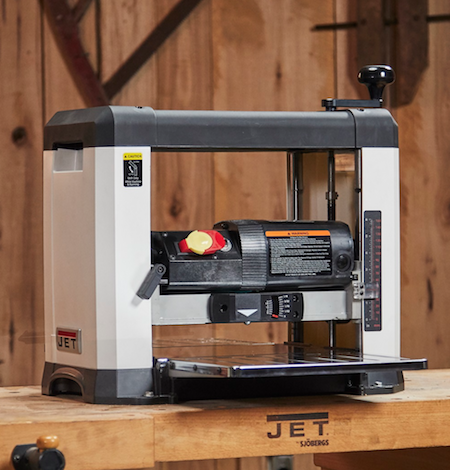 The new JET 13" Benchtop Planer delivers a smooth and consistent cut finish due in part to its helical-style cutterhead. The cutterhead is outfitted with six rows and 26 individual quick-change knife inserts which can be easily rotated or replaced, if damaged or worn.
The powerful 2 HP, 15-amp, 2-speed planer features a feed rate of 18 or 26 feet-per-minute (fpm) at 10,000 RPM. Its structural, four post-design provides maximum support and control of the cutterhead assembly.
The planer's cast iron table bed and steel cover construction helps keep boards flat while advancing through the planer to avoid snipe.
"The new JET 13" Planer has all the features an enthusiast or small shop owner would want," said Tobias Bridges, JET's Product Development Director – Wood. "Plus, it's durability and portability makes it a space saving choice for jobsite or shop use."
The feed rate knob, located on the front of the machine features two speed adjustments of 18 or 26 feet-per-minute (fpm), based on wood selection and species characteristics. Maximum depth of cut is 1/8" per pass with a maximum height of 6" and 13" wide.
An adjustable depth stop can be set for repetitive cut operations. The planer's infeed and outfeed tables are adjustable for leveling the table bed. When not in use, they can foldup for compact storage. Integrated side handles enable transport of the 74 lb. planer with one person from one location to another.
The JET 13" Planer connects to a 4" dust port for dust and chip extraction. A 4" dust collection system with a minimum capacity of 400 CFM is recommended.
A toggle switch triggers the planer's on/off operation and includes a removable safety key to prohibit unauthorized use.
The JET 13" Planer (#722130, JWP-13BT, $799.99) is CSA certified. The planer is covered by a three-year warranty, as well as JET's RED AssuranceTM, the industry's most dependable service and support guarantee program. Visit www.jettools.com for more information or to locate a dealer.