Stationary Tools: Bullet Tools Magnum Siding Series 613 and 620 Shears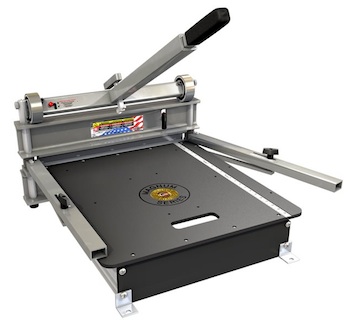 Built to last and designed specifically for siding contractors who need a heavy-duty, dust-free solution for cutting siding and siding trim, Bullet Tools launches its new MAGNUM Siding Series 613 (13") and 620 (20") as the ideal solution for fast, easy siding installations without harmful silica dust and debris.
These top-of-the line shears provide a fast, clean cut on fiber cement, OSB, pressboard lap, vinyl, wood and shingles up to a little more than 1" thick and siding trim up to 5/4" thick. They feature full metal-jacketed ball bearings for increased power and ease of operation as well as mounting brackets for fast, easy tool stand mounting. Their hardened chromium-vanadium tool steel blade outlasts saw blades 20 to 1.
The MAGNUM 620 (20") shear also features a built-in AngleMaster dual fence system that swings in and out and also allows operation from both sides of the table to facilitate accurate, repeatable cuts. For a short video of the 620 in action click here and for more detailed information on the MAGNUM 613 and 620, click here.
"During the past year we've been refining our tools into industry specific categories including flooring, siding and insulation to better serve our distributors and ultimately the end-user," explained Ben Toews (TAY-vs) President & CEO of Bullet Tools, "With increased demand in the siding category, we developed the MAGNUM Siding Series with product features that meet the contractor's need for a strong, reliable, long-lasting shear that provides dust-free cutting on a variety of products."
The MAGNUM Siding Series 613 and 620 join a series of EZ Shear Siding and Siding Trim cutters including the one-of-a-kind 26" EZ Shear SST. The 26" EZ Shear (226SST) is the only tool on the market that cuts a 4/12 pitch on an 8" board while producing a very clean edge and no airborne dust. It's recognized by the world's largest fiber cement siding manufacturer as the best way to cut fiber cement siding. Check it out here.
In addition to its line of siding shears, Bullet Tools manufactures a variety of flooring cutters for laminate, engineered, hardwood and other flooring products and a line of soft flooring cutters for luxury vinyl tile, carpet tile, rubber tile, cork and more. These shears range in size from 9" to 40" and cut installation time by allowing installers to cut where they work and work where they cut, saving both time and money while also providing jobsite efficiency and safety. See our flooring shears here.
Based in Hayden, Idaho, Bullet Tools is a US manufacturer of innovative, cutting-edge installation solutions designed to improve the lives and livelihoods of tradesman across the globe. The company began in 1998 with a simple idea born of necessity by a longtime flooring installer, Dalen Gunn, who decided there had to be a better way to cut flooring and launched the Magnum Shear. With a commitment to improving installation efficiency and safety, Bullet Tools has grown into a world leader in flooring, siding and insulation cutting solutions that improve jobsite safety and save contractors time and money. For more information call 800-406-8998, visit www.bullettools.com