Diamond Equipment: Mercer Blue Lightning Multi-Purpose Diamond Blades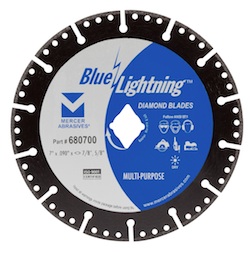 Mercer Abrasives' is proud to announce its new 14" Multi-Purpose Diamond blade to its extensive line of Drywall Products.
The exclusive mix of industrial quality diamonds provide the perfect answer to fast clean cuts on metal studs, backer boards and drywall materials as well as extra long life.
Blue Lightning Multi-Purpose blades can cut Concrete, Metal, Stone, PVC, Rebar, Asphalt, Masonry, Backer Board and Drywall and more.
Now as part of Mercer's Drywall line of sponges, screens, disks, sheets and rolls, it is one more great tool for Drywall professionals to use.