Simpson Strong-Tie Deck-Drive DWP Wood SS Screw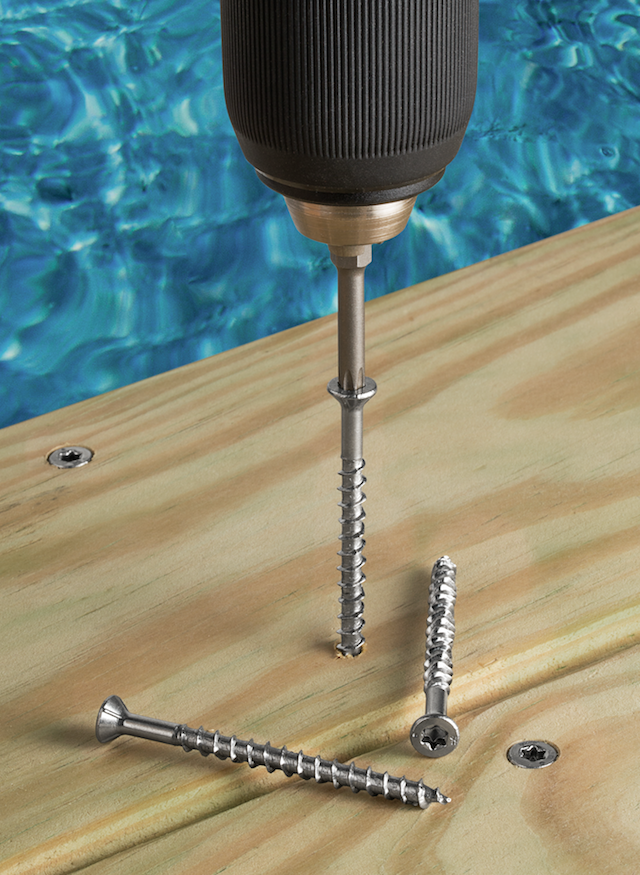 Simpson Strong-Tie is offering new load-rated sizes of the Deck-Drive DWP Wood screw in stainless steel. The fastener is designed for use in decks, docks, boardwalks and high-exposure environments that require exceptional corrosion resistance and higher loads.
Engineered to provide fast, easy installations, the DWP SS screw is an ideal solution for almost any exterior wood-to-wood fastening application and, now with larger load-rated sizes, it's also recommended for structural connections.
The popular DWP screw has undergone rigorous testing per ICC-ES acceptance criteria AC233 for shear, pull-through and withdrawal resistance in various wood species (Douglas fir–larch, southern pine, spruce-pine-fir, hemlock-fir) in a range of thicknesses. (Please check strongtie.com for sizes, lengths and applicable loads.)
The new load-rated DWP SS screws are available in flat-head sizes #10, #12 and #14, and in lengths from 2 to 6 inches in Types 316 and 305 stainless steel.
"Simpson Strong-Tie is proud to lead the industry by offering the first load-rated stainless-steel fasteners that don't require predrilling for use in decks, docks and boardwalks," said Dr. Ed Sutt, VP of Fastening Systems at Simpson Strong-Tie. "Load-rated stainless-steel fasteners give builders, engineers and architects more confidence in the strength of the products they use and specify, along with the exceptional corrosion resistance of stainless steel."
For more information about the DWP line and other Deck-Drive fasteners, visit strongtie.com/deckdrive.