December 2010/January 2011 print edition of Contractor Supply magazine
The following selected stories appeared in the December 2010/January 2011 issue of Contractor Supply magazine.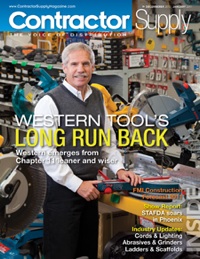 Cover Story: Western Tool's Long Run Back
Kevin Kiker's Western Tool emerges from Chapter 11 a leaner, wiser company.
Show Report: STAFDA 2010
Stronger attendance, activity and optimism signal an industry entering recovery.
FMI Construction Forecast 2011

Cashflow Consultant: A/R Survival Tactics
Inventory Consultant: Collaborative Forecasting
Plus industry updates on Ladders & Scaffolds; Abrasives and grinders; and Cords, cables and lighting!
And much more!