February/March 2013 print edition of Contractor Supply magazine
The following selected stories appeared in the February/March 2013 issue of Contractor Supply magazine.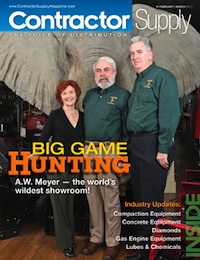 Cover Story: Big Game Hunting
Ridgefield, New Jersey's A.W. Meyer boasts not just the "World's Largest Tool Showroom" but also unquestionably its wildest!
STAFDA News: Feb - March 2013
Warehouse Consultant: Jason Bader
The how and why of warehouse compensation programs.
Suppliers: Wacker Neuson
Wacker Neuson's new Retail Distributorships program caters to the STAFDA channel.
Suppliers: Topcon TotalCare
Topcon's new Web portal puts it all "out there."