DEWALT 25 Foot Tape Measure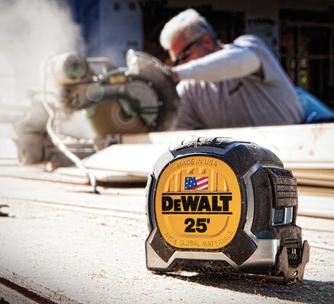 Relentless pursuit of durability is written in the DEWALT DNA. Customers turn to DEWALT for products that are engineered to withstand the toughest job sites.
At STAFDA's 40th Annual Convention & Trade Show from November 6-8, 2016 in Atlanta, DEWALT will unveil its toughest tape measure yet, with patented, game-changing dual-spring technology.
This new tape measure features Straighter Standout, Tougher Blade Coating, Tougher Hook Connection, and Tougher Case. This new DEWALT tape measure is proudly manufactured in the USA with global materials and is "Tough Beyond Measure."
"This product demonstrates our on-going commitment to innovation and steadfast dedication to engineering superior products that are manufactured in the USA with global materials," said Jon Michael Adinolfi, President - Hand Tools & Storage.
Available for purchase in the Spring of 2017. Stay tuned for more information www.dewalt.com.