IDEAL Vol-Con Elite Voltage/Continuity Tester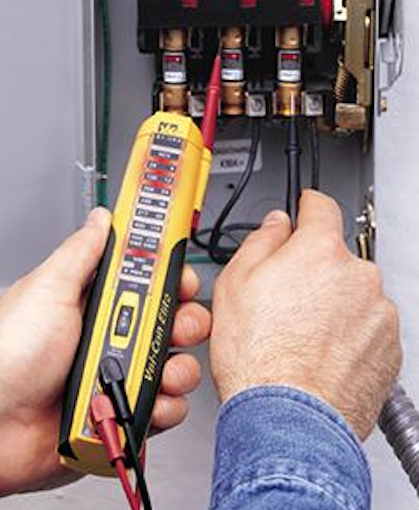 The Vol-Con Elite from IDEAL Electrical is a professional-grade voltage/continuity tester that combines the best attributes of a solenoid tester -- including a vibration mode, low impedance and ruggedness -- with the advanced safety capabilities and higher test accuracy afforded by digital circuitry.
Targeted at electrical contractors working in residential, commercial and industrial environments, the Vol-Con Elite offers a wealth of important features. For example, the Vol-Con Elite does not heat up over extended periods of use, a common problem with solenoid testers.
Moreover, the digital circuitry virtually eliminates the possibility of the tester creating a spike in the line, another concern when using a solenoid model.
The Vol-Con Elite will identify voltage up to 600VAC/220VDC, or as low as 24VAC/6VDC, plus it incorporates a non-contact voltage sensor in its tip for identifying AC voltage from 40-600VAC.
An additional benefit is the tester's low impedance that eliminates ghost voltage readings that often occur with lesser quality digital testers.
Bright LED illumination, audible continuity and a comfortable cushion grip make it much more than just a basic voltage/continuity tester. Users will also appreciate the tester's field replaceable silicone leads that can withstand abrasions and a wide range of temperatures.