October/November 2014 print edition of Contractor Supply magazine
The following selected stories appeared in the October/November 2014 issue of Contractor Supply magazine.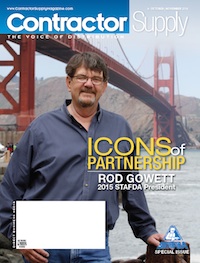 Cover Story: Icons of Partnership
2015 STAFDA president Rod Gowett leads his company, Bay Tool & Supply, through its acquisition into Acme Construction Supply.

STAFDA 2013 Session Presenters:
STAFDA Consultants:
Business Briefs: Swanson Tool Company
Plus: Industry Updates on Measurement Tools, Hand Tools, Material Handling Equipment, Cordless Drills, Drill Bits, Tool Storage and much more!