Oct/Nov 2012 print edition of Contractor Supply magazine
The following selected stories appeared in the Oct/Nov 2012 issue of Contractor Supply magazine.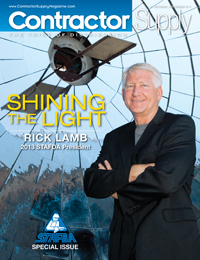 Cover Story: Shining the Light
Rick Lamb, sales, marketing and quality assurance manager for Frank's Supply, has helped his employer become a top-flight supplier for U.S. government and private customers engaged in nuclear, weapons, energy research and uranium enrichment.
STAFDA 2012 Convention Special Coverage:
STAFDA Executive Director's Welcome
Welcome to Orlando!
Rick Lamb, 2013 STAFDA President
STAFDA Tech Fair
Software, hardware, e-commerce and related technology exhibitors at STAFDA.
STAFDA State of the Industry Presentation
Jim Fall, Business and Operations Director, U.S. Market, Industrial Adhesive and Tape Division, 3M
Session Preview: Economic Forecast
Alan Beaulieu, President, Institute for Trend Research
Session Preview: Collaboration
Tim Underhill, President, Strategic Business Solutions
Session Preview: Marketing to Generation Net
Bob DeStefano, SVM E-Marketing Solutions
Session Preview: The Perfect Customer
Brent Grover, Managing Partner, Evergreen Consulting
Session Preview: Situational Leadership
Pete Land, President, Peter A. Land Associates, Inc.
Session Preview: Human Resources Update
Nancye Combs, President, HR Enterprise
STAFDA 2012 New Products Preview
Case Studies: Foiled by Knaack
Knaack job site storage chest foils costly construction site theft.
Business Systems: How well do you know your company?
Malcolm Fox, Director of Worldwide Product Marketing, Epicor Software Corporation